To the peaks La Porte and Piton du Fouge
These 2 remarkable peaks are situated on the ridge between Chamarel and the westcoast. The challenging access from Chamarel leads over private ground and it is recommended to combine it with an overnight stay at the Chalets Chamarel.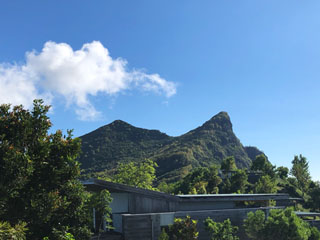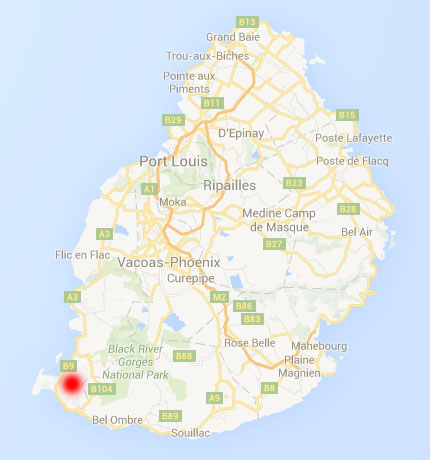 Chalets Chamarel - Piton du Fouge
approx. 2 hours (up and down)
260m altitude difference
Getting there / parking
Generally there are 2 access possibilities, one from Coteau Raffin/La Gaulette at the coast and one from Chamarel. I am going to describe the access from Chamarel. As already said, the easiest way is to stay a night at Chalets Chamarel, because then you can start walking straight from your chalet. To get there, you drive from the town of Chamarel to the 7-coloured earth, pass the gate (if you tell that you are going to stay at Chalets Chamarel you don't have to pay the entrance fee) and follow the signposts past the Ebony Forest until the Chalets Chamarel.
If you don't want to stay at Chaltes Chamarel, you can still try to drive up to the viewpoint of Chalets Chamarel. Shortly before the road enters Chalets Chamarels private ground, there is a security guard in a shelter next to the road who will probably only let hotel guests pass.
Entry
Follow the road past Chalets Chamarel. After the view point there is a gate straight ahead that leads to a larger property. Follow the road which bends to the left an leads away from the crest. Shortly you will reach a gate and a warning sign that tells you that you are entering a private hunting area. Everybody has to decide by himself if he wants to continue after this point. When I was there, the gate automatically opened as soon as I passed a light barrier. Right after the gate a small path starts to the right and followes the fence up the hill. If you don't want to enter the private ground you can try to find a ways outside the fence (or rather between the fence and the one of the neighbour property). However this will be much more cumbersome as you have to make your way through scrub.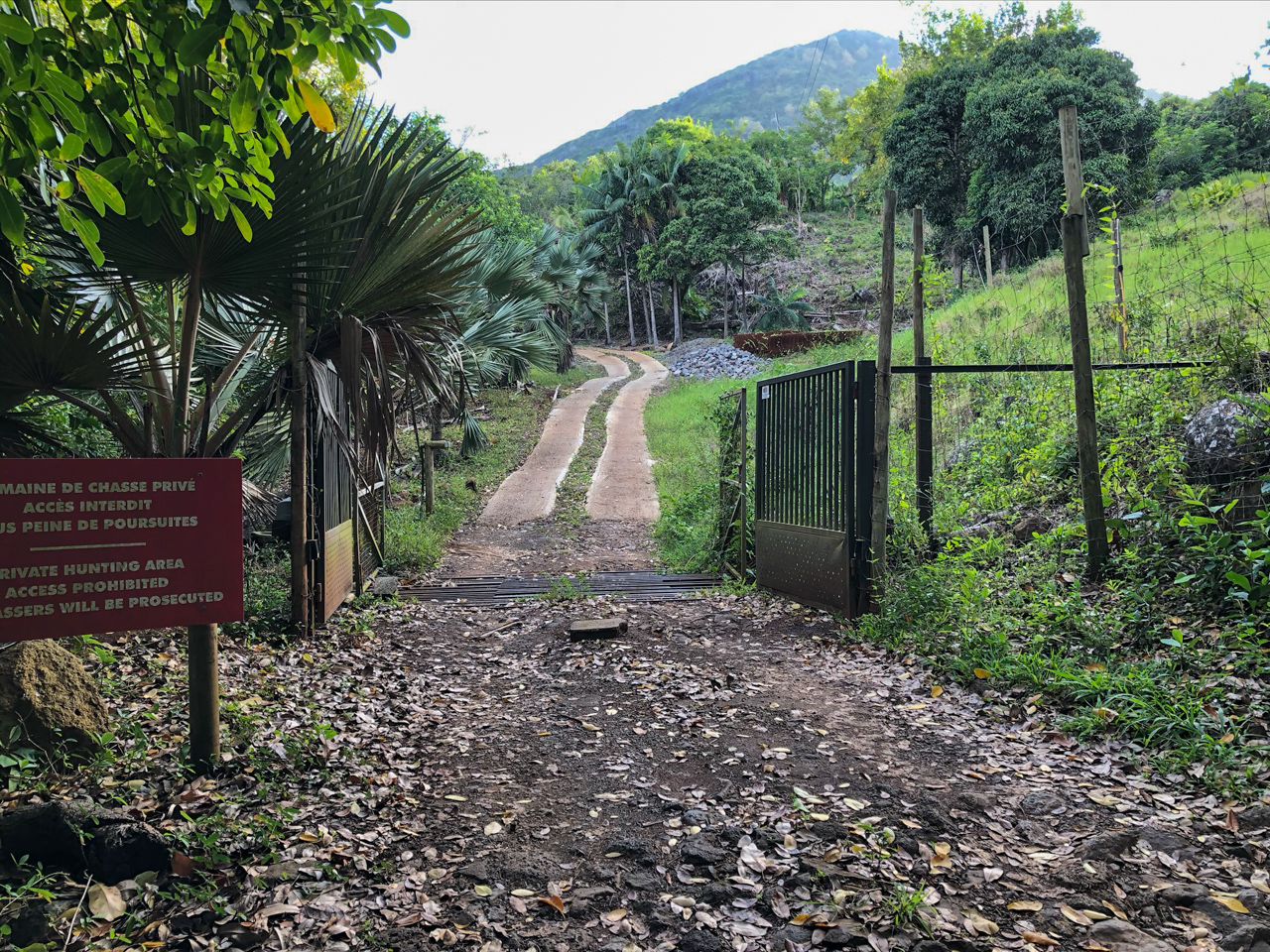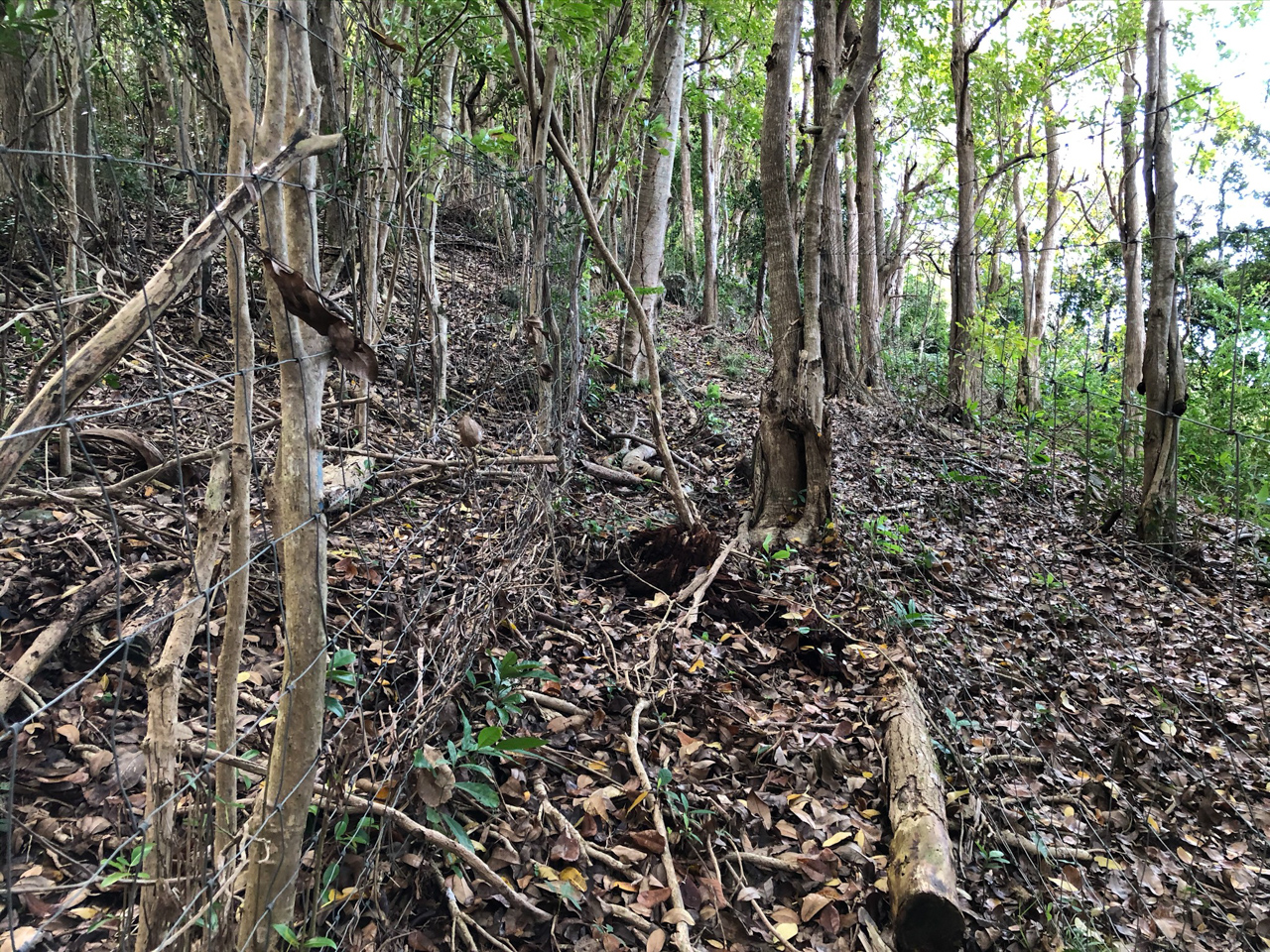 Trail characteristics
The footpath on the private hunting area follows the fence up to the crest. Up there the property is also confined by a fence, the path turns to the left an follows the fence again. After approx. 300 meters the path leads through a door in the fence and leaves the property. Now the path often follows the crest and offers a phantastic view of the coast and the Le Morne peninsula. Dangerous sections are even secured with a rope.
Shortly you will reach the peak of La Porte and the path starts to descend again. After another 500 meters you will reach Piton du Fouge. From there the path still continues, but I did not have time to explore it any further.